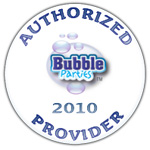 What is a Bubble Party?
A Bubble Party is a 60 minute interactive program of age appropriate music, dancing, games, and fun geared towards young children, primarily ages 3-6 as well as elementary school aged children 7-12. Oh, and thousands of bubbles. Bubble Parties are performed at preschools and day cares. In addition, we can provide a customized Bubble Party for private parties and birthday parties for any age group.
Where are Bubble Parties Performed?
Bubble Parties are usually performed outside in a school play area during regular school hours or in the backyard at a person's home. These parties are perfect for outdoors events, fairs, fundraisers, and pool parties. Occasionally, a Bubble Party can be held indoors.
What kinds of activities and songs are played during a Bubble Party? 
Activities might include or involve the following: limbo, hula hoops, pom poms, mega phones, bucket drums, Simon Says, guess who game.
Some of the dances we include are: Happy, Frozen, Shake It Off, Chicken Dance, Hokey Pokey, YMCA, The Freeze, The Twist, Stop Hop, line dances.
All songs are age appropriate and can be tailored for private parties:  Axel F, I'm A Believer, We Like to Move It, Head Shoulders Knees & Toes, Sponge Bob, Dora, Wiggles, Backyardigans, and many many more.
Do you need additional adults to help supervise during the Bubble Party?
Yes, we will need staff/adult supervision and participation to enhance the children's experience and to ensure a safe event.
How many children should attend a Bubble Party?
A Bubble Party works best for a group of 15 to 30 children.
How much time do you need?
We will need about 1 hour to set-up, 1 hour for the Bubble Party, and about 45 minutes to break down.
Are you an authorized Bubble Party provider?
Yes, we are a member in good standing. Feel free to visit: www.BubbleParties.com Watch Video!
Do you have professional equipment?
Yes, we use professional DJ equipment to include 2 Bubble Blast machines that produce thousands of bubbles. All equipment and materials for the various activities are provided by us. Just give us a place to play, access to an electrical outlet, and we will be ready to bubble.
What localities do you service?
We primarily service the greater Metro area to include Northern Virginia and surrounding counties.
How much does a Bubble Party cost?
Typically, a Bubble Party cost $175-$200 per hour.
Additional Note!
For 1 hour your children will be entertained and will participate in activities that will bring the biggest of smiles to their faces. All children love bubbles... so why not give them thousands of bubbles and a moment everyone will remember forever? What a gift!!!
1 hour Interactive show: Average Cost: $175-$200